San Diego Home Sales website search offers all North County Coastal homes, condos and foreclosures for sale. You are able to get new property listings daily that meet your search criteria.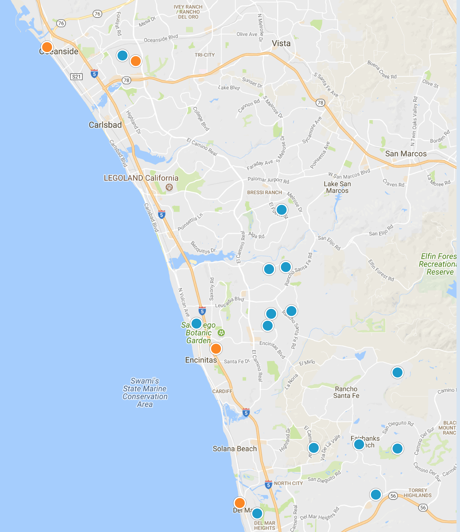 North County Coastal Information & Highlights
The North County Coastal region refers to the area in the northern part of San Diego County, California, nearer to the western edge along the shores of the Pacific. It includes communities like Carlsbad, Encinitas and Oceanside, as well as the many smaller communities within those cities. Oceanside is the area's largest city, with a population of around 180,000. The area lies just south of Camp Pendleton, a large and active U.S. Marine base.

The communities in the North County Coastal area have diversified economies, with active manufacturing, construction tourism, education, medicine and technology sectors. The area has some of the region's most popular beaches and is popular with surfers, particularly Leucadia, where the beaches are open 22 hours a day, beginning at 4 a.m. and staying open till 2 a.m.

Attractions in the North County Coastal area include the California Surf Museum in Oceanside, countless top-ranked country clubs and golf courses, local community and state parks, the world-class La Costa Resort and Spa, an outlet shopping center in Carlsbad, the Lux Art Institute, the San Dieguito Heritage Museum and the San Diego Botanic Garden in Encinitas, and the Museum of Making Music, Legoland California and Sea Life Aquarium in Carlsbad.

There are a number of schools, both public and private throughout the region overseen by a swath of school districts. The Army and Navy Military Academy is in Carlsbad. Colleges include Mira Costa College in Encinitas, San Diego State University, California State University-San Marcos, and the University of California's San Diego campus.
North County Coastal Areas
Carmel Valley - This master-planned upscale community is the northern most coastal community with the City of San Diego.
Torrey Highlands - Just east of Carmel Valley, the newest master-planned community within the City of San Diego.
Del Mar - Approx. Population: 17,133 - City of Del Mar website: www.delmar.ca.us
Rancho Santa Fe - An unincorporated community within the County of San Diego.
Solana Beach - Approx. Population: 12,453 - City of Solana Beach website: www.ci.solana-beach.ca.us
Encinitas - Approx. Population: 61,633 - City of Encinitas website: www.ci.encinitas.ca.us
Cardiff-by-The-Sea - A small beach enclave within the City of Encinitas.
Olivenhain - A rural, horse friendly community within the City of Encinitas.
Leucadia - A beach community within the City of Encinitas.
Carlsbad - Approx. Population: 92,488 - City of Carlsbad - www.ci.carlsbad.ca.us
San Elijo Hills - San Diego County's newest master planned community. Part of the City of San Marcos.
La Costa - An upscale community within the City of Carlsbad.
Oceanside - Approx. Population: 185,270 - City of Oceanside - www.ci.oceanside.ca.us