San Diego Real Estate Insider
San Diego real estate market trends, valuable news about short sales, including foreclosure information in the San Diego county plus much more.
Jan. 23, 2016
Come see this new listing just steps from the sand in Pacific Beach. This fully turn key unit has NO HOA, and a fully paid for solar system. The inside is turn key, upgraded stianless appliances, granite counters, two car garage and in a very coveted location of Pacific Beach close to dining and entertainment. Checkout of video below and please subscribe to our youtube channel to stay connected with new updates on the market and all things San Diego Real Estate related.
Nov. 27, 2015
We are pleased to share our newest listing in one of San Diego's most popular communities, Kensington. Many of the residents of Kensington enjoy the walking lifestyle and and charming main street district on Adams Ave. This complex is one of the only VA approved complexes in Kensington and comes with all the appliances and a $700 flooring credit so you can choose your preferred flooring type. This listing won't last, contact us today to schedule a private showing. $335,000
July 26, 2015
San Diego Home Sales - NEW LISTING - 18372 Saint Etienne Lane, Rancho Bernardo, CA
Price $1,299,000
Gorgeous home in a highly sought after private gated community, Vezelay, situated on a quarter acre lot. Much attention to detail from the inlaid floors to the gorgeous chefs kitchen with spotless GE profile appliances, gracious formal dining room, French doors to tranquil inner courtyard and a spacious theater room. Large master suite is conveniently located on first floor with easy access the fabulous yard with a full outdoor kitchen and vegetable garden. Large three car garage with epoxy coated floors for all your vehicles and equipment. The impeccable interior condition is move in ready. A close golf cart ride to the Rancho Bernardo Inn which offers a wide range of activities for resort club members including pool, golf, dining and more.

Link to MLS Listing
http://paragonmls.sandicor.com/publin...

For More Information Please Contact:

Drew Schulte
Realtor/Broker
San Diego Home Sales
BRE# 01810772
858-205-9131
March 17, 2015
Did you know you can get a loan on Vacant Land? US Bank has a great program (as well as construction loans):
· Conventional mortgage financing
· 20-30% down payment required
· 3/1 ARM – 30 year amortization
· No prepayment penalties
· Construction contract not required to purchase vacant lot.
· Construction loan financing available, current equity in vacant lot may be used to secure financing for construction build.
· Simultaneous vacant lot loan and construction loan closings available.
A side note: they typically go up to $500,000; but they can exceed this value up to a $3 million lot with credit/income approval.
This offers a great opportunity to build your dream home!
Call us for more information at 858-205-9131 or or Nikki Campbell with US Bank: 619-550-7541
Jan. 9, 2015
Here is Pacific Beach in 1971 during the construction of the iconic Capri by the Sea development. This would have also been a good time to buy property in San Diego, but now we have some of the lowest rates we have seen in a while and if you buy now you can fix those rates for 30 years. Imagine if you bought in 1971...your loan would have been paid off! Take advantage of low rates and please let us know if you would like to discuss purchasing a property for investment purposes or a lifestyle change.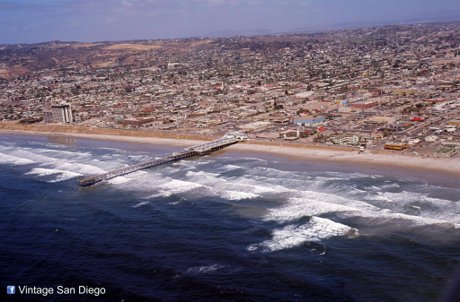 Photo: Vintage San Diego
Dec. 12, 2014
Tis the season for food, family and spreading good cheer! All of us at San Diego Home Sales want to wish you and yours a warm and safe holiday season.
We are available through the holidays and look forward to helping you find your accomplish you real estate goals in 2015!
Happy Holidays!
David Johnson
Melissa Jackson
Robert Bonham
Kent Richardson
Drew Schulte
Joe Lukasik
Dec. 9, 2014
As with AC installations and Pool repair/installations winter time is always the best time to negotiate for good deals! Contrary, you will find the best time to negotiate with gutter installation companies is in the summer, we have found you could save upwards of $1 per linear foot on cutter installation in the summer. Doing your homework is critical to the success of any home improvement project.
Make sure whoever you hire is reputable and reliable. We keep book on who is good in town, and if you are ever in need of a reputable trades-person we would be happy to help. Some of the most common recommendation we are plumbers, electrician and roofers, but we have some very specialized tradespeople. For instance we know of a tile grout cleaning team! The tile grout cleaning team comes to your house and literary scrubs your grout by hand with a wire brush and some special cleaner. The end result is stunning and makes almost any grouted floor look like new! We also have a variety of specialty contractors of almost every application. If we don't have a recommendation for you we can reach out to our network of contractors and if it exists, we will help you find it.
Here is a funny video we found re-enforcing how important it is to hire good people who know what they are doing!
Let us know if you have had any really amazing experiences with contractors here in San Diego, and we also would love to hear if you have any really BAD experiences as well.
Sept. 23, 2014
When pricing your home for sale many factors are considered including location, size, amenities and ultimately…supply and demand.     However there are many common misconceptions around selling real estate and I wanted to share with you my  top 4 when it comes to selling.
1.      Price high to expect low offers -  – This is the most common myth and backfires more often than not.    In San Diego we are fortunate to have a strong demand to our real estate offerings and likewise of list to sales price disparity is very low.  Buyer and agents are looking at price very closely.  The first 10 days of a listing is by far the most important time, not only are your exposing your listing to the mass of buyers "in the market" but first impressions on price are important too.  If you expire your active buyers "in the market" you are only left with buyers coming into the market who often are not as motivated as someone who has written three offers and has been looking in your area for months.  If your home is overpriced and not in line with the neighborhood not only will your home not sell, you will be assisting in the sale of others people's homes.
2.      Throw some grass seed down and paint the front door red -   This is the second most common myth about selling your home is do some minor upgrades and forget the big stuff.  You always want to make sure you address any major issues that might come up in the inspection to ensure a smooth process for the buyer and help to ensure a smooth close for the seller.  For showings prior to contract, buyers need to envision themselves in your home and your goal should be to make the space as neutral as possible.  I make the analogy of a nice hotel suite with very neutral feeling.  De-cluttering & De-personalizing can help the buyer feel at home. 
3.      Discount Realtors, For Sale By Owner, Flat Fee MLS – This is the third most common myth.  You may think you can sell your home yourself, maybe your can?, maybe your cant?.  It's true, Realtors don't work for free but often times their value collectively is realized by sellers after the transaction is completed.  I'm all my years selling homes I have never once had a seller tell me a charge too much and almost every times I am able to quantify my value in actual numbers to the seller.  Selling a home takes a lot of time and expertise, the exchange of a few words could have a significant impact on the bottom line.
4.      Not every offer is a winner – Don't get offended if you receive a low offer.  It's your agents duty to present each and every offer to you.  Some buyer will make very low offers because that is how the want to begin the negotiation process.  It doesn't take long to figure out if they are a serious buyer or not.