San Diego Real Estate Insider
San Diego real estate market trends, valuable news about short sales, including foreclosure information in the San Diego county plus much more.
Jan. 9, 2015
Here is Pacific Beach in 1971 during the construction of the iconic Capri by the Sea development. This would have also been a good time to buy property in San Diego, but now we have some of the lowest rates we have seen in a while and if you buy now you can fix those rates for 30 years. Imagine if you bought in 1971...your loan would have been paid off! Take advantage of low rates and please let us know if you would like to discuss purchasing a property for investment purposes or a lifestyle change.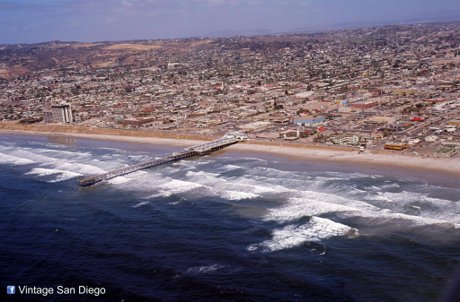 Photo: Vintage San Diego
Dec. 12, 2014
Tis the season for food, family and spreading good cheer! All of us at San Diego Home Sales want to wish you and yours a warm and safe holiday season.
We are available through the holidays and look forward to helping you find your accomplish you real estate goals in 2015!
Happy Holidays!
David Johnson
Melissa Jackson
Robert Bonham
Kent Richardson
William Waldron
Raymond Vinole
Shawn Budd
Mike Heck
Drew Schulte
Dec. 9, 2014
As with AC installations and Pool repair/installations winter time is always the best time to negotiate for good deals! Contrary, you will find the best time to negotiate with gutter installation companies is in the summer, we have found you could save upwards of $1 per linear foot on cutter installation in the summer. Doing your homework is critical to the success of any home improvement project.
Make sure whoever you hire is reputable and reliable. We keep book on who is good in town, and if you are ever in need of a reputable trades-person we would be happy to help. Some of the most common recommendation we are plumbers, electrician and roofers, but we have some very specialized tradespeople. For instance we know of a tile grout cleaning team! The tile grout cleaning team comes to your house and literary scrubs your grout by hand with a wire brush and some special cleaner. The end result is stunning and makes almost any grouted floor look like new! We also have a variety of specialty contractors of almost every application. If we don't have a recommendation for you we can reach out to our network of contractors and if it exists, we will help you find it.
Here is a funny video we found re-enforcing how important it is to hire good people who know what they are doing!
Let us know if you have had any really amazing experiences with contractors here in San Diego, and we also would love to hear if you have any really BAD experiences as well.
Sept. 23, 2014
When pricing your home for sale many factors are considered including location, size, amenities and ultimately…supply and demand.     However there are many common misconceptions around selling real estate and I wanted to share with you my  top 4 when it comes to selling.
1.      Price high to expect low offers -  – This is the most common myth and backfires more often than not.    In San Diego we are fortunate to have a strong demand to our real estate offerings and likewise of list to sales price disparity is very low.  Buyer and agents are looking at price very closely.  The first 10 days of a listing is by far the most important time, not only are your exposing your listing to the mass of buyers "in the market" but first impressions on price are important too.  If you expire your active buyers "in the market" you are only left with buyers coming into the market who often are not as motivated as someone who has written three offers and has been looking in your area for months.  If your home is overpriced and not in line with the neighborhood not only will your home not sell, you will be assisting in the sale of others people's homes.
2.      Throw some grass seed down and paint the front door red -   This is the second most common myth about selling your home is do some minor upgrades and forget the big stuff.  You always want to make sure you address any major issues that might come up in the inspection to ensure a smooth process for the buyer and help to ensure a smooth close for the seller.  For showings prior to contract, buyers need to envision themselves in your home and your goal should be to make the space as neutral as possible.  I make the analogy of a nice hotel suite with very neutral feeling.  De-cluttering & De-personalizing can help the buyer feel at home. 
3.      Discount Realtors, For Sale By Owner, Flat Fee MLS – This is the third most common myth.  You may think you can sell your home yourself, maybe your can?, maybe your cant?.  It's true, Realtors don't work for free but often times their value collectively is realized by sellers after the transaction is completed.  I'm all my years selling homes I have never once had a seller tell me a charge too much and almost every times I am able to quantify my value in actual numbers to the seller.  Selling a home takes a lot of time and expertise, the exchange of a few words could have a significant impact on the bottom line.
4.      Not every offer is a winner – Don't get offended if you receive a low offer.  It's your agents duty to present each and every offer to you.  Some buyer will make very low offers because that is how the want to begin the negotiation process.  It doesn't take long to figure out if they are a serious buyer or not.
Sept. 16, 2014
San Diego September Events
Whether you are planning a visit to or live in San Diego and looking for fun activities, September is full of events to satisfy everyone! Here is just a sample of what is happening in and around San Diego County.
Ready for a taste of Autumn? It is that time of year for the Julian Apple Harvest, September 1st and runs through mid-October. Lots fun for the family. Don't forget to enjoy the famous Julian apple pies and apple cider! Check out the Julian website at http://www.julianca.com/
If you love powerboat races, you might want to head over to Mission Bay September 12-14, 2014. This year's San Diego Bayfair will be celebrating 50 years! For highlights and more information, go to http://www.sandiegobayfair.org/
Interested in trying new cuisine at discounted prices? Then you will want to take part in San Diego Restaurant Week, Sept. 21-26, 2014. There are over 180 restaurants to choose from in this event. Go to http://www.SanDiegoRestaurantWeek.com for more details and participating restaurants.
Encinitas celebrates Oktoberfest on September 21st, 2014 from 10am to 5pm. Admission is free. Enjoy the German music, art, food, and beer! http://www.encinitasoktoberfest.com/  
For even more local events, please check out www.SanDiego.org. 
Jan. 3, 2014
What a year 2013 was for the El Cajon real estate market.  Prices rose on average 7% in El Cajon according infosparks market analysis, but cooled off towards the end of 2013 amidst the Holiday season.  Historically January and February are the busiest months for new listings in El Cajon and the entire county.  Buyer should note with the recent drop in sales price and increased inventory, now is a good time to start looking to beat the springtime rush and minimize the risk of running into a multiple offer situation which rarely benefits the buyer.  Interested in viewing the available listings in El Cajon?  Click here to view all the active listings in El Cajon.
Dec. 11, 2013
Prices in Scripps Ranch are reaching the highest points we have seen in the past 3 years….up 22% to be exact.  With the addition of some new developments in Stonebridge, Scripps Ranch remains one of the most desirable addresses in San Diego.  Currently there are 58 active listings, with 35 sales in the past 30 days.  Click here to search all the listings currently for sale in Scripps Ranch. 
Oct. 25, 2013
As the weather cools downs it's a reminder property taxes are coming due. There is some confusion over when property taxes are actually due. The tax collectors fiscal year starts on July 1st and tax payments are made on a semiannual basis based on the properties assessed value.
First payment due                 November 1st
Late after                            December 10th (10% penalty after)
 
Second payment due            February 1st
Late after                            April 10th (10% penalty after)

Property tax is collected by the San Diego County Tax Collectors office. You can make payments in person, over the phone or online. You can visit the San Diego County Treasurer-Tax Collector's website to view more important dates at http://www.sdtreastax.com/tax-collection
Feel free to search all San Diego Homes for sale throughout the entire county.
Posted by: Drew
Oct. 2, 2013
Everyone can remember the times we were blessed with the presence of Mr. LaDainian Tomlinson here in San Diego.  As quickly as our star runningback left San Diego, his home still sits on the market in Poway after a long and drawn out listing.  The star's home was originally listed in the fall of 2011 with an asking price $5.2MM and has since been relisted and reduced down to $3.75MM. 
LT's compound is located 18755 Heritage Drive in the Heritage community of Poway.  The home is spread over 13+ Acres (yes that's over a half million sq foot lot) which is comprised of two contiguous parcels.   The home has a ultra-tropical setting with resort style pool, slide and waterfall.  The owners spared no expense on developing this property with upgrades that include a custom theater, full sized lighted basketball court, wine cellar, massive outdoor kitchen with ample seating for entertaining and of course his and hers walk in closets.
Currently there are 13 listings in the Heritage ranging from $1.5MM-$20MM.  
There has been 6 Sales in the Heritage in the past 6 months ranging from $1.95 to $9MM. 
Interested in purchasing LT's Poway Compound, or any other home for sale in Poway?  Contact us today for a private showing of this magnificent property.
Posted By: Drew
April 23, 2013
Poway is seeing a slight increase in inventory with an approximate 5% rise since March 2013. There was also a slight increase in distressed properties such as foreclosure and short sales during the beginning of April. According to Trulia.com, the average price per square foot for a Poway, CA home was $264, representing a 10.5% increase over last year.  The median sales price of a Poway home during the period January 13, 2013 to March 13, 2013 was $494,250 based upon 118 Poway home sales, representing a 27% increase compared to last year at the same time. Although, the number of home sales decreased by 22.4%. There are approximately 185 resale and new homes on the market as well as 87 homes in some stage of foreclosure or pre-foreclosure. The average list price was $1,342,263 during the week ending April 10, 2013, representing a 4.4% increase over the prior week. So all and all the Poway home market is regaining its strength. 
Popular Poway zip codes and list prices for the week ending April 10, 2013 are as follows:
Zip codes:                                                                                           Average List Price
92037                                                                                                  $2,832,611
92128                                                                                                  $495,386
92109                                                                                                  $1,166,456
92130                                                                                                  $1,555,602
92127                                                                                                  $1,244,135
92115                                                                                                  $431,424
91916                                                                                                  $345,831
92102                                                                                                  $309,218
92058                                                                                                  $290,007
92120                                                                                                  $495,090
Why is Poway Real Estate is So Popular?
If you are wondering why there is such a high demand for Poway real estate, here are a few reasons:  Poway offers a rural atmosphere. Green valley and Bridlewood offer ½ acre to 1-acre lots, and you will also find horse trails. Nature lovers and hikers will enjoy the hiking trails and picnic spots at the Lake Poway recreation area. Also, just to the east, you will find Mount Woodson, which offers fabulous views and really great rock climbing for the more adventurous. If you are looking for estate properties, Huntington Gate has 5,000+ sq ft. homes. You can also find smaller less expensive homes on city-sized lots, and the Poway United School District is consistently rated in the top tier.
Predictions
The Poway real estate market is much stronger. Many buyers who lost their homes to foreclosure during 2008 -2010 are now able to return to the marketplace to buy again because their credit ratings have improved. Since rents are going up, buyers have realized it is cheaper for them to purchase a home at today's lower interest rates and affordable home prices. If you fall within this group, and you are tired of throwing your money away renting, then now is the right time for you to buy Poway real estate.  Buyers need to act quickly though because there is a lot of competition for well-priced Poway resale homes. Distressed homes are getting harder to find and you could find yourself in a multiple offer situation.  If you are waiting for a large shadow inventory, that ship has sailed. Banks are putting their distressed properties on the market at higher prices or selling the inventory in bulk to investors.
Many sellers who were underwater the past five years are now able to sell their houses because home prices have moved up. If you are ready to sell, now is also good time because the Poway market is moving towards a seller's market. Working with an experienced Poway real estate agent is recommended to assist you with your home buying or selling endeavors. 
View information on Poway properties now!